Ticket to skate or happy to ride?
We have a lot of chance in Montréal, after some hesitations, in 2015, city council voted a motion to permit skateboarder on the bike paths. The motion was tabled by Verdun councilor and long-time skateboarding enthusiast Sterling Downey. Downey said it is finally time for Montrealers to recognize skateboarding as a legitimate mode of public transportation. It was time: some skateboarders literally collectionned fines!
And as our city have a great network of bike paths, we can travel all across the island and visit many places. We even have a Formula 1 circuit to use along with the bikes – as it is classified as a bike path). It is not like that everywhere in the world, and it is not without limitation.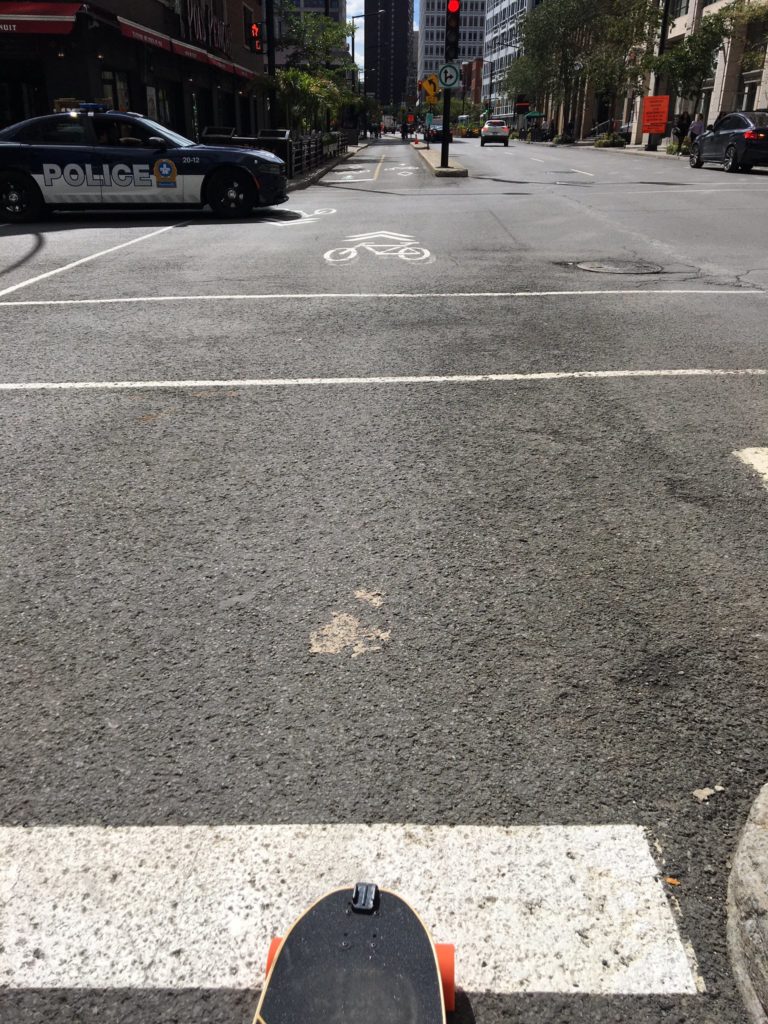 If you can without risking a ticket to ride in the bike path in front of police officers, like in the picture, it is still forbidden to ride on the road, even on cycle lane: only protected bike paths like this one are allowed. And the question of the presence of an electrically powered vehicle is not precisely defined. We rode in front of police in MTL on a daily basis without any trouble, but unlike in Paris and NY, we are in a grey zone on the question of the nature of the propulsion. At least, if a policeman decides that you should not ride with a motor, on a skateboard, you can push (that's what you need to learn the basics when you adopt an esk8).
Skateboarders also need to accept that a bike path is a common equipment, shared with other users (cyclists, of course, but also some roller skaters, one wheeler). As David Bouthillier MTL Skateboarder declared: "People need to understand that they need to follow the city bylaws. So when you're skateboarding on the paths, don't be doing tricks. Use it for transportation". We add to respect the speed limits as a recommendation, now that skates go well over 50 kph: 30 Kph is a maximum to be safe with yourself and the others.
And elsewhere, how can you esk8 in the city? It depends on where you leave, and you will have to check with local authorities or your electric skateboard dealer. In France, there is a national regulation (1 July 2020) saying that your skateboard should not exceed a 25 kph speed, be equipped with lights. You also need insurance. You are allowed to ride on the cycle lane, and on the road, if no cycle lane is available. Riding on the sidewalk is strictly forbidden for electric vehicles (but non-motorized skateboard can). You can also have a local regulation decided by the mayor who prohibits the use of electric skateboards (and all skateboards) in the city (see the government description of the french law here).
In New-York (with a wonderful network of cycle paths), electric skateboards are considered legal to ride but It is a bit difficult to pin down a set of regulations specific to electric skateboards (read here). Electric regulation, like in Paris, define speed limit, and prohibit use of e-skate with a speed exceeding 25 miles per hour (faster than in Paris). Generally, you cannot skateboard on the sidewalk anywhere in New York. New York State law allows for riders to take their electric devices on some streets, but you'll have to check to be sure which streets allow you to ride on them before safely doing so.
As you can see, the rule of the presence of our electrified boards in the cities are not clearly defined everywhere and vary a lot. So we could not more recommend you look on the internet before going anywhere. Ride safe !