Two years ago, we built The Wasp version 1. It was the end of summer 2020, full pandemic ! We went to the Montréal F1 circuit to test it, used the cycling lane in Montreal and had a lot of fun with it. A board capable to 55 km/h, probably 60, with only 1×3500 w motor (so not two heavy and not consuming two much electricity), and cruising easily 60 km with a 12SP2. The price was great (less than 900 US$ for a long board). However, we had some issues : we were not happy with the Flipsky motor mount, very unstable, difficult to fix and with the heavy Flipsky steel trucks. All this made a design which also exposed the motor too much to gravels and road trouble like malicious sidewalk step : in fact after less than 200 km, the motor was destroyed, and we had to buy a new one.
So we decided to rebuild this board with new components, and we are pretty happy with the final results: we explain bellow what we changed. Of course, the price have changed too, mostly not because of our new components choice, but maainly because of the inflation. That's another story !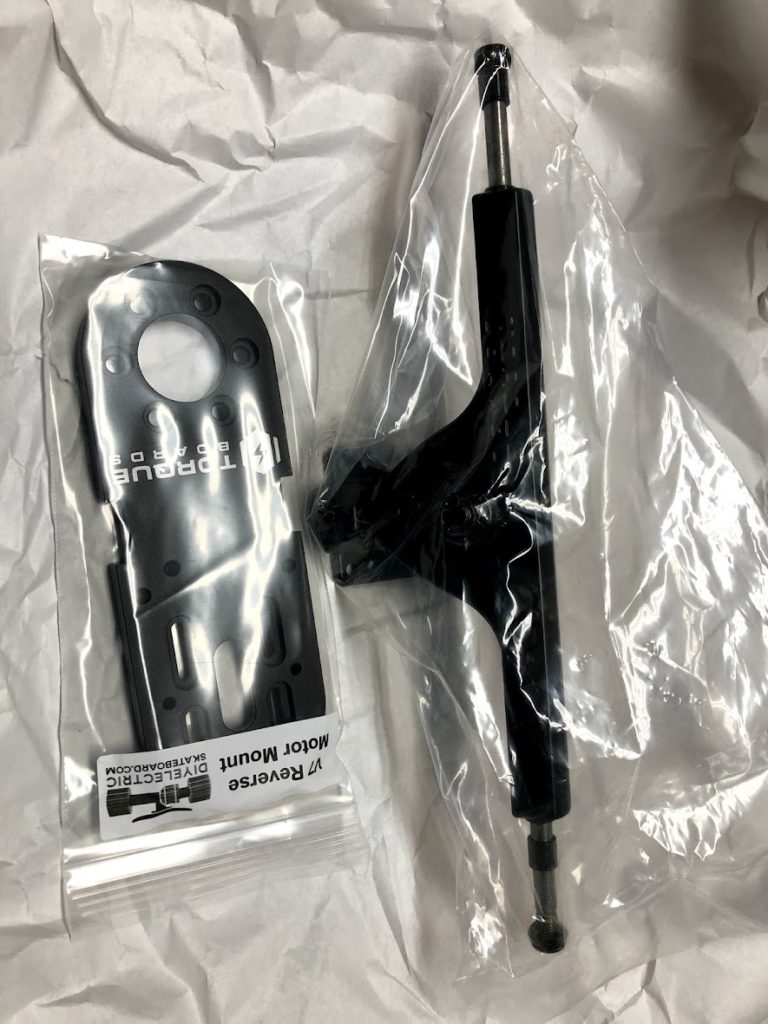 New trucks
We found the Flipsky truck very heavy, and difficult to integrate with a stable motor mount due to the round shape of the hanger. The Torque 218 mm truck from DIY Electric Skateboard solve all those problems :
Our TorqueBoards 218mm Longboard Trucks are very similar to Caliber II Trucks. The height for our TB 218mm Trucks are about 1mm taller. These trucks are strong and wide. You have the ability to use 15mm wide belts with Dual 6374 motors only with our 218mm TB Trucks!
The usage of aluminum make this truck light and contribute to the lightness of the board. Flipsky trucks were very heavy and you fell it when you ride. And because of the size of the hanger, and the use of the Caliber shape, its is possible to use a much more quality fixing for a motor mount.
New motor mount
The main modification is the replacement of the Flipsky motor mount by a new one from DIY Electric Skateboard. This company from Texas is really autistic when you need to exchange with them, but their product are really great ! Let listen what they have to say about their motor mount:
V7 Motor Mount is made out of 6061-T6 Aircraft Grade Aluminum. We seriously went overkill with this and this is the only motor mount that you can find that is 12mm THICK. The last motor mount you'll ever need for your belt drive electric skateboard.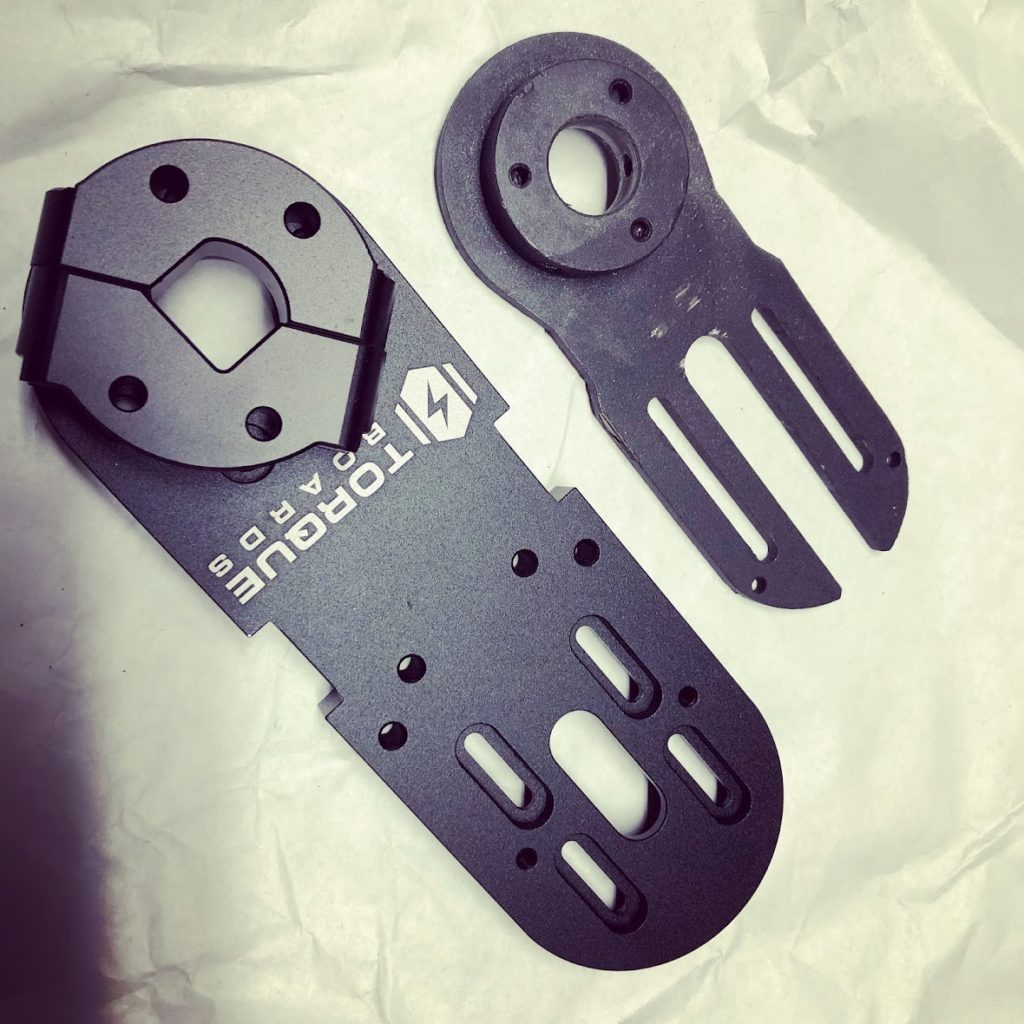 And finally as the V7 motor mount is much longer than the Flipsky one, it allows us to have a much high position for the motor, safer from gravels and sidewalk shocks.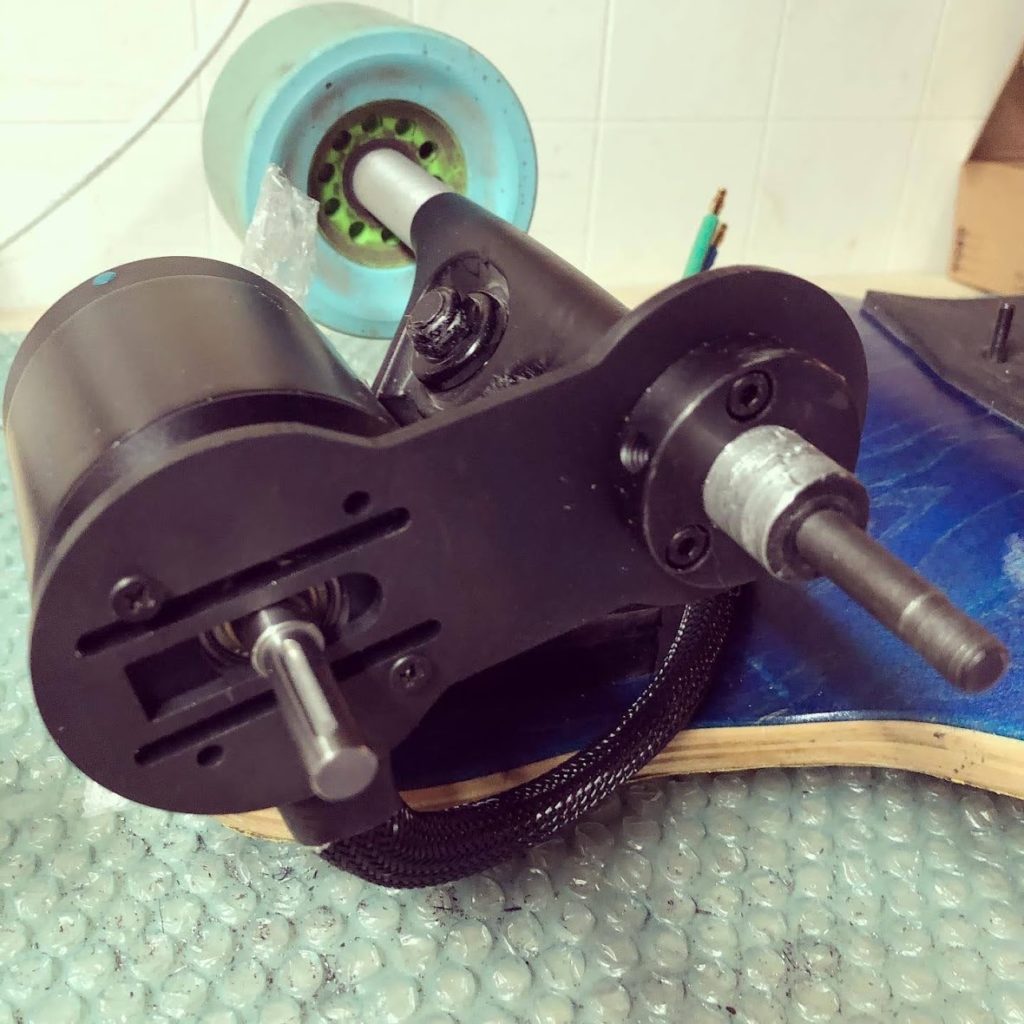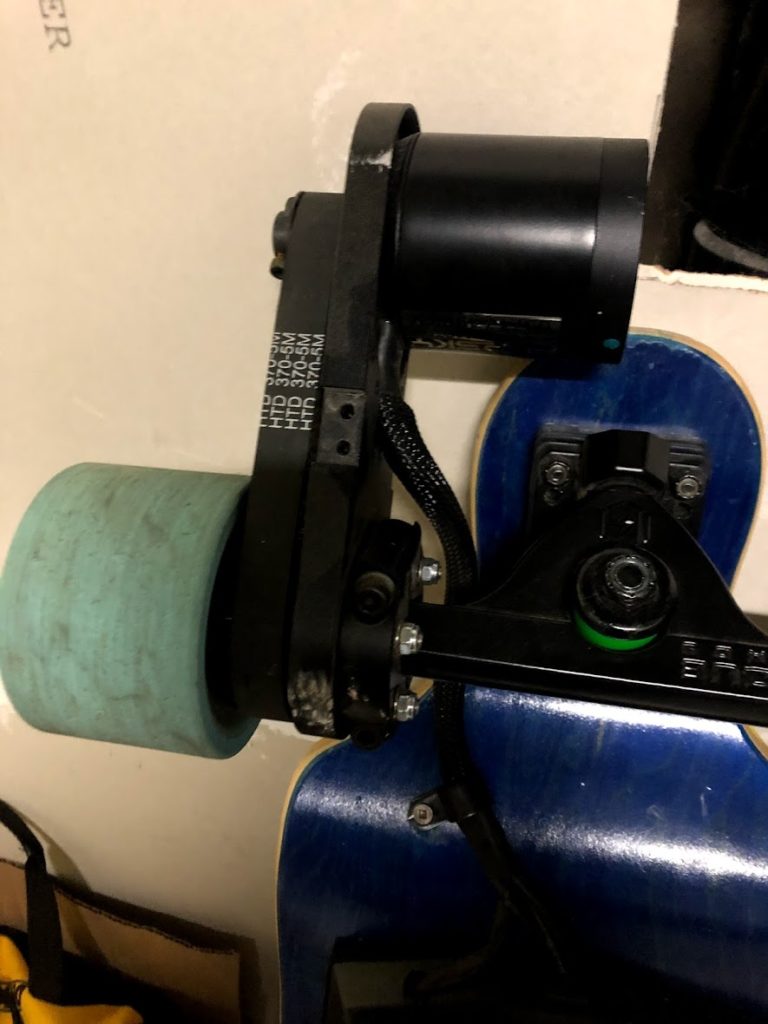 New bushings
On the Wasp V1, as it is intended to be a high speed board, we decided to use very hard bushings, mostly used for high speed downhill to get maximum stability : full green Venom flat eliminator (more info here about this choice) 93a. As explained, the HPF formula and the barrel shape is a choice to make this board very stable over 50 kph, but it will need more radius to turn.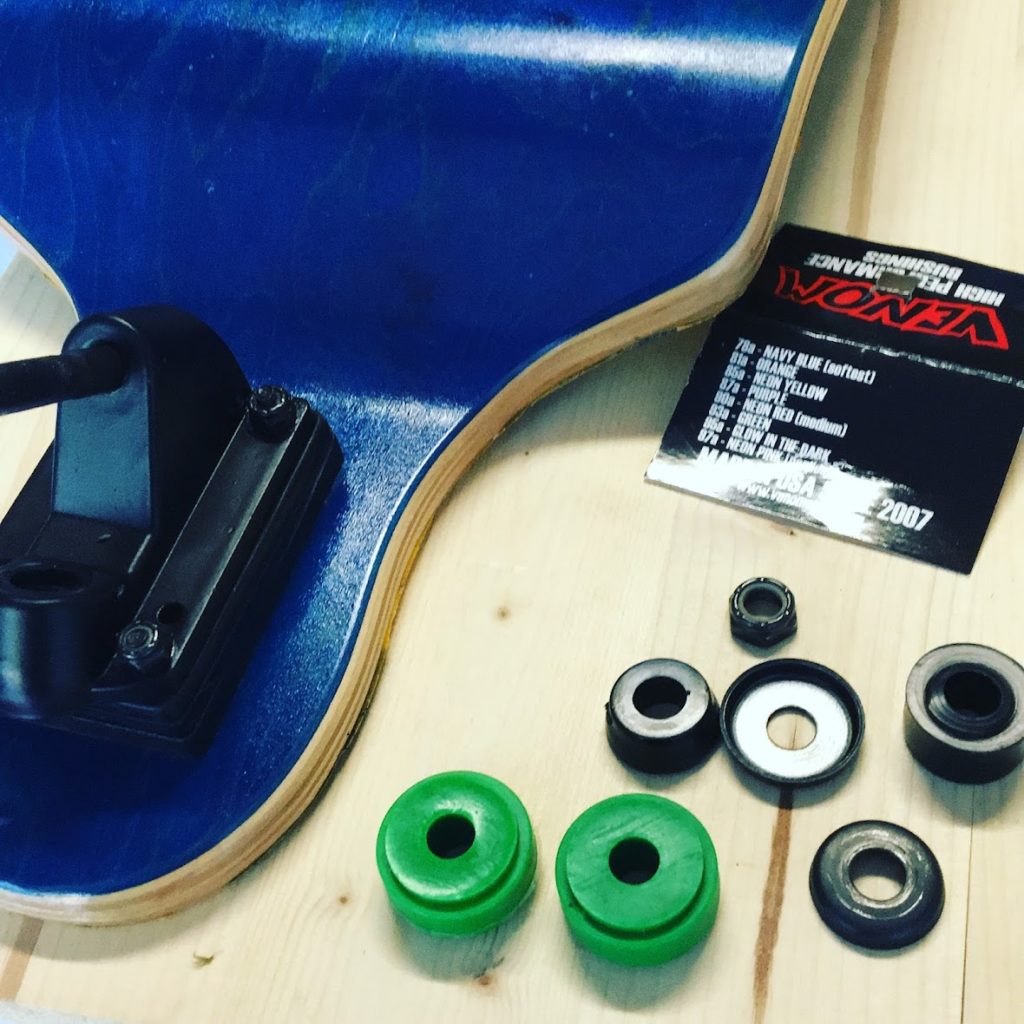 Under heavy use, we did not like this bushing : turning on a small radius cycling lane was like driving a semi in a parking garage ! So we modified the front configuration to have more turn capability, without losing high speed stability from the rear. We now have in front the second proposition : Venom Barrel HPF 90a red on top – flat wahser – and still, Venom Eliminator HPF Bushing 93a green near the board.
Conclusion
We have now a much better board, slightly more expensive (around 1100 $ now vs 849 $ 2 years ago), but wonderful to ride, specially at high speed ! This shows also that what is wonderful with DIY boards is that it is very easy to upgrade.
| | | | |
| --- | --- | --- | --- |
| Component | Characteristics | Cost (USD) | Vendor |
| Trucks | Torque 218 mm Truck | 65 | DIY Electric Skateboard |
| Risers (2*1/2) | 1/2 Ruber riser (1 by truck) | 10 | Skateshred |
| Wheels | Orangatang Caguama 85 mm Blue 77a | 68 to 80 (+12) | Skateshred (or others) |
| Deck | 41″ x 9.5″ DROP DOWN DECKS (#B41) Blue | 50 | Skateshred |
| Bearings | ABEC 7 Bearings | 5,99 | Skateshred |
| GripTape | Jessup Yellow/Black Stripe | 6,4 | Amazon / Skateshred |
| | | | |
| Motor (with 10 mmm shaft) | BLDC Motor Hardened 190 KV 3500W | 126 (+29) | Flipsky |
| VESC | FSESC 6.6 based upon VESC® 6 with Heat Sink | 177 (+47) | Flipsky |
| Enclosures Battery | Mboards Enclosure – Normal | 24,99 | Mboards |
| Enclosure Vesc | ESC Enclosure | 34,99 (-5) | Mboards |
| Motor Mount & polley | V7 Motor Mount | 60 | DIY Electric Skateboard |
| Kegel Wheel Polley | 36T Kegel Wheel Pulley | 24,99 | Mboards |
| Motor Polley | | | |
| Belt | | | |
| Battery | 12 SP 2 – 6 Ah – 44.4V | 334 (+100) | Mboards |
| Remote | 2.4Ghz Remote VX1 | 49 | Flipsky |
| Nuts and bolts | Varia (we suggest to equip your lab with 1.25, 1.50,1.75) | 10 | Amazon / Skateshred |
| Total | | 1098,36$ | |
Component list of the Wasp FS 02 Board – Highlighted is what is new – Underlined is new price